It's 2023. Talking about content creation (especially the writing part) is contained within the brackets of AI Writing, Chat OpenAI, ChatGPT, etcetera. If you're a content writer in 2023, I feel you. The introduction of ChatGPT has been scary and it has confronted us head-on with our insecurities as professionals. 
While a majority of the writing community on the web is planning to pivot, some of us are here, fighting the fallacy of AI taking over. 
As tools like ChatGPT are posing the biggest jeopardy to our careers, I believe that professional or freelance writers still make up the biggest portion of the 100 million ChatGPT users. 
Based on my personal trials and errors, I have made some observations about this tool that we will talk about in the next sections. First, let's see how tools like Chat OpenAI can be a good friend for researchers.
Artificial Intelligence For Research

If you're someone who has to churn out new articles every day on technical topics and it takes a lot of time for you to research the elaborate topics, AI can be your best friend. 
The best tool for this is, obviously, ChatGPT where you can just type in your queries and get your answers in seconds. If you have to seek help from lengthy documents like PDFs, you can use tools like PDF.AI that will literally let you chat with the PDF document you upload there. You can ask questions about a specific section of the PDF and spare yourself the hassle of going through the entire document. 
Even if you're not writing something technical, you can very well use AI writing tools to outline articles, which makes a big difference in article writing. An AI writer like Chat OpenAI has a plethora of information from which you can cherry-pick your pointers and frame an informative and high-performing article.   
In a nutshell, an AI writer can help you with the research and reduce the time taken for the same. On the flip side, if you use the content created by these tools and publish it directly on your website, blog, or whitepaper, you may lose a big chunk of your readers. 
The reason? 
Your content won't be compelling and let me tell you why!
3 Things ChatGPT Can't Do Like Human Writers 
There is a lot that ChatGPT can't do like human writers but I have gathered my top 3 that make me believe that this tool can't beat human creativity and intelligence. Let me show you: 
Infuse Emotions like Nostalgia, Narcissism, and Empathy
When brands market their products and services, they market them to their audience, who (to date) are humans. And humans are suckers for emotions.
Let's look at the example of Paperboat, an Indian food company. Nostalgia is their USP. They have almost 200k followers on their Instagram handle and I am pretty sure more than half of them joined their network because of the nostalgic feeling they give us through their content. Somehow, they take us (especially the 90's kids) back in time and urge us to buy their products and get that feeling of our childhood days again. 
Along similar lines, many brands use content to evoke emotions like nostalgia, narcissism (by personalizing their brand for the users), and empathy (by diverting users' attention to a social cause). 

No matter how brilliant prompts you put in ChatGPT, the sentimental value of its content will always be much lower than a copy written by a human writer. And that's why, ChatGPT and other artificial intelligence tools are not recommended for writing customer-centric marketing copies. 
2. Cover the Trendy Topics and Incite Commotion 

ChatGPT has piles and piles of information but that is all very objective. It is an armchair expert in everything. On top of that, the data produced by ChatGPT is old and limited and you can't get it to write on current or latest topics (yet). 
For example, I asked ChatGPT "Who was the best dressed at Met Gala 2023?" Here is its answer:
However, my next question was, "What is Met Gala?"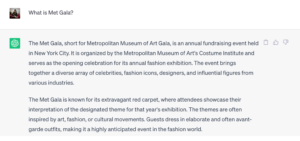 So, if you're someone whose job is to cover trendy and current topics for a website, magazine, or blog, or if you're a journalist who writes for newspapers or columns, ChatGPT can't replace you. This AI writer lacks touch with the latest happenings around the globe. And while the people at OpenAI may fix it soon, you can still cash in on this limitation of ChatGPT and get paid to write articles, blogs, and columns.  
Writing and creating content on trendy topics can help you incite the commotion and be part of it while it is still hot. Many brands gain loads of profits by capitalizing on the opportunities that these trending topics bring for them. 
For example, the Balenciaga controversy created opportunities for other brands to prove their worth, while users were boycotting the said brand. On the same lines, the backlash received by Bud Light, a beer brand, due to its collaboration with a trans influencer gave other beer brands a chance to do comparative advertising and win some audiences. 
Taking advantage of such situations needs support from creative marketing copywriters and content creators because ChatGPT can't do it for you. 
3. Give Differentiated Opinions 

Most content creators are highly opinionated and ChatGPT isn't. When you have your own column or blog, you have a voice, a tone, and a set of things you believe in. These are your niche and they bring loyal audiences to your brand. 
There are influencers like Jordan Peterson, Matt Walsh, Piers Morgan, etc. who are strongly advocating the shady and wrongful things taking place under the name of gender dysphoria. Believe me, they trigger a lot of people! 
While they have strong opinions that are not supported by a majority of people on the internet, they also have huge follower bases. If you ask AI tools like ChatGPT about these ongoing social concerns and topics, they won't be able to list (let alone elaborate) the pain points. They would rather give you informative and bookish answers. 
Many brands, bloggers, writers, and digital content creators may need to stir up some pots to get to their audience by creating controversy. Their audience needs to be found and addressed among the common masses. For this, AI tools are no help. You need to get your wits to work to create some thought-through and catchy content that can reach the people you want to influence and cut through the rest of the noise. Only human writers can do that! 
The Ball is Still in Your Court 

ChatGPT is still giving professionals the biggest scare of their careers. However, it's time to let tools be tools and not masters. You can still stand out as a writer, a blogger, and even a brand with your writing and marketing skills. 
Sadly, many decision-makers of businesses know half the truth. They are blindly pacing towards artificial intelligence for tasks like article writing, B2B writing, copywriting, etc. 
We need to look into the intricacies of content creation and realize the importance of quality here. Only good-quality content can compel your audience to stay and you can't create it without human intervention. 
ChatGPT is a brilliant tool if you use it right. If you use ChatGPT as a writer and not as a research tool, there will be a lot of boring and monotonous websites and blogs on the web, and no more interested readers. Stand out with your uniqueness, talent, and flair of writing, and don't let ChatGPT scare you. 
I will write more on how to use AI tools without treating them as your competition and what difference they can make in your day-to-day writing tasks. Stay tuned and ask questions, if you have any!